After redshirting the 2016 season, two highly-touted recruits are ready to burst onto the stage and make their mark for the Blue Devil offense.
Running back Brittain Brown and wide receiver Scott Bracey entered camp looking stronger than ever and are hoping to contribute to an offensive unit that was inconsistent last season. Although Brown and Bracey did not gain a single yard on the field in 2016, both used their time on the sidelines wisely.
The duo prepared to be their best selves come 2017 by spending their time off the field doing strength training and studying how their team runs its offensive attack, and now it is their turn to show it come Saturdays.
"I think what I gained the most is just having a year to understand the offense and also just making my leg stronger so that I can be the college football player I can be," Bracey said after an Aug. 12 scrimmage in which he caught two passes. "Just trying to help the team, that's what I'm trying to do."
Bracey—a four-star recruit and the nation's 55th-best receiver in ESPN's Class of 2016 rankings—redshirted after injuring his hamstring last August. At 6-foot-2, 210 pounds, the Richmond, Va., native is one of the Blue Devils' more physical wideouts, and his potential has excited his teammates and coaches when he has been healthy.
Brown, on the other hand, redshirted due to an abundance of talent at the running back position. However, following the transfer of Joseph Ajeigbe and the graduation of Jela Duncan, it seems as though the 6-foot-1, 200-pound back will get his share of touches alongside senior Shaun Wilson, who is much smaller.
"It was kind of difficult to redshirt him a year ago," Cutcliffe said. "I think it was in his best interest and ours. I think he's stronger, and I certainly think he may be faster."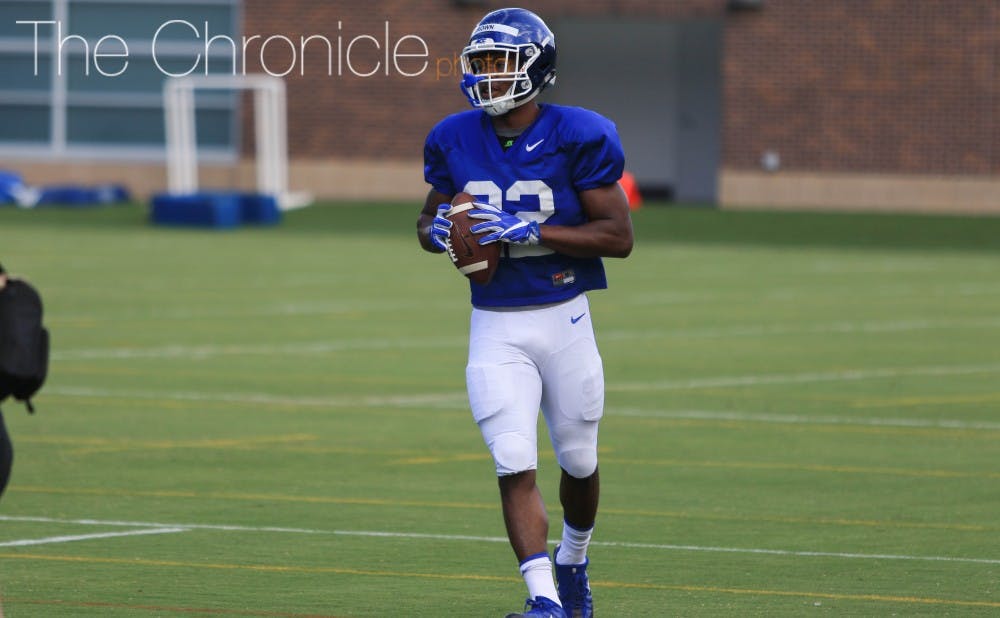 Brown—the nation's 18th-best running back in ESPN's Class of 2016 rankings—has been impressive thus far during camp. The Canton, Ga., native rushed for 143 yards on 19 carries during two fall scrimmages, and Cutcliffe will likely rely on him to use his size to plow through defenses and pick up first downs in short-yardage situations.
"He's just a tremendous athlete and a really big back," quarterback Daniel Jones said after an Aug. 21 practice. "He has a great understanding of what we're asking him to do at running back—as just a redshirt freshman, he's really picked that up fast. It's great to see him run. He runs violently and aggressively, and that's what you want to see in a running back of his size and skill set."
Brown and Bracey will look to follow in Jones' footsteps and have success in their redshirt freshman seasons. Jones, too, knows what it is like to redshirt and how to fight for snaps in fall camp. He said the most important thing he gained from his redshirt year was learning the mental side of the game and how to practice at the college level.
Like most freshmen, however, Jones felt the learning curve early on last season. But he emerged as a more consistent offensive threat in the second half of the year when he posted nine touchdowns to just one interception.
"When you think about younger guys, I think it's as much mental as it is anything in capturing the more intricate aspects of the offense," Jones said. "They've done a great job of doing that. Work ethic has never really been a question with those guys, so they've just continued to progress fundamentally and technically, but also focused in their understanding of the offense."
Bracey and Brown are not the only redshirt freshmen expected to play this season—right tackle Robert Kraeling, linebacker Xander Gagnon and cornerback Myles Hudzick are all on the two-out depth chart entering their first on-field season after redshirting last fall, and it will be interesting to see how they make their mark on the 2017 Blue Devils.
Both Brown and Bracey should get plenty of opportunities to impact the Duke offense in the opener against N.C. Central and beyond, and their physicality and athleticism can help them succeed immediately on the field.
Hank Tucker contributed reporting.