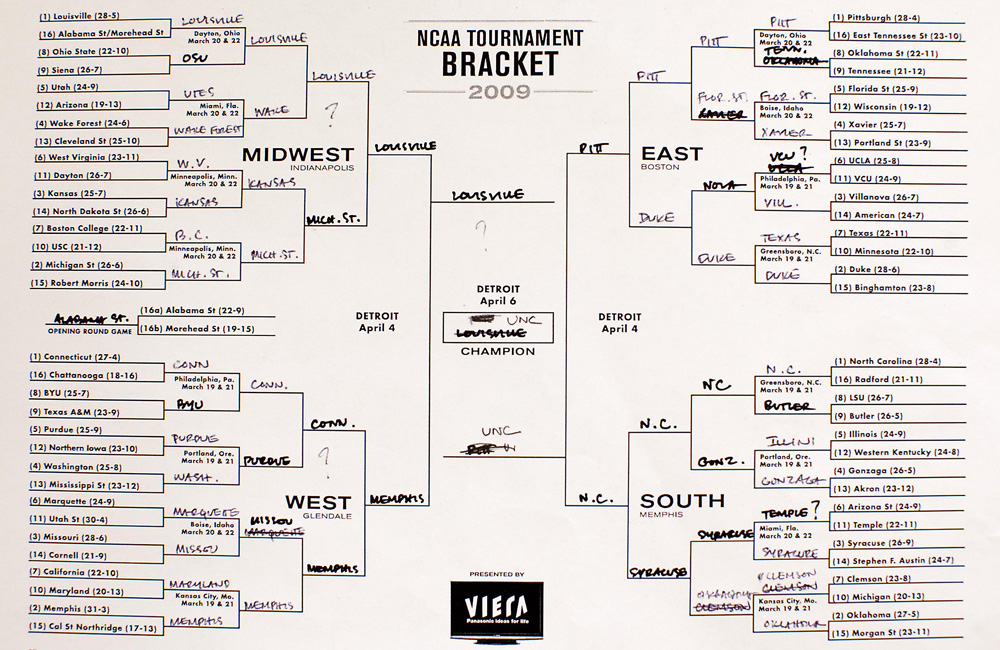 The President of the United States likes Duke to get to the NCAA Tournament's Elite 8--but even his allegiance to his body man, Reggie Love, couldn't convince him that the Blue Devils would advance any farther.
Obama, who isn't shy about voicing his opinions about sports, released his bracket to ESPN's Andy Katz Wednesday. Obama picked North Carolina to win it all--he'd be in good company if he joined The Sports Blog's Bracket Challenge!--and while he likes Duke, or is at least scared to lose his BlackBerry, Obama was too impressed with Pittsburgh to not ride the Panthers to the Final Four.
"Because of Reggie Love, I've got to pick Duke," Obama said.

The whole way?

"No, no, not the whole way. Come on," Obama said.

How much influence does Love have?

"He doesn't have that much influence," Obama said. He chided his aide by saying a year ago Love picked the Blue Devils to go all the way, and then added, "I think it sort of stopped here," pointing to the second round of the bracket.
Love isn't the only Duke connection Obama has in the White House, although he's the only one with sports ties. Robert Gibbs' mother works in the Duke library system, but the press secretary might have more loyalty to N.C. State, his alma mater. Still, Obama couldn't be persuaded that anyone on Duke could guard DeJuan Blair.
Picking Pitt over Duke was his toughest selection. He looked over at Love and said that despite the "skilled perimeter players, they just don't have the muscle inside. I think Blair is going to eat them up."

Love smiled, but his loyalty at this point in his life has to be to Obama, not Mike Krzyzewski.

"Reggie says [Kyle] Singler is going to be able to guard Blair," Obama said. "I don't think so."
Hey, 44: Join the Bracket Challenge and see if you know more than The Chronicle's staffers!
Get The Chronicle straight to your inbox
Signup for our weekly newsletter. Cancel at any time.