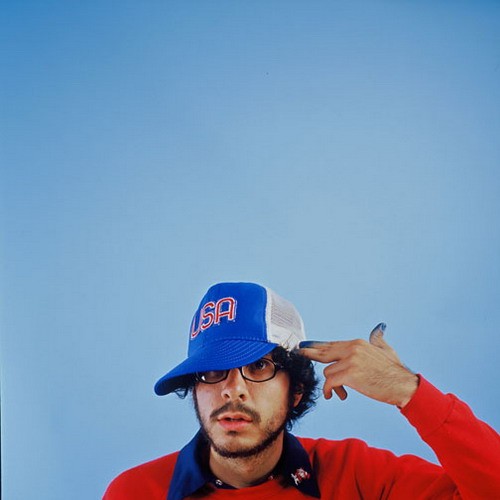 Yoni Wolf of WHY? Courtesy hiphopcore.net

       
While I regret not listening to Silver Jews' Lookout Mountain, Lookout Sea, Department of Eagle's In Ear Park, Air France's No Way Down EP, Portishead's Third, Neil Halstead's Oh! Mighty Engine, No Age's Nouns, Atlas Sound's Let the Blind Lead Those Who Can See But Cannot Feel, Dosh's Wolves & Wishes, Subtle's ExitingARM and M83's Saturdays=Youth as much as I would have liked before assembling this list, I make no apologies.
10. The Magnetic Fields. "Too Drunk to Dream." Distortion brought new life to the Magnetic Fields, perhaps best evinced by this track. The song's lyrics are laughable, but the Jesus & Mary Chain influences gives it a distinct feel. And the likelihood that this is how Stephin Merritt actually feels about life paints the song with a true sense of sadness.
9. Sigur Rós. "Inní mér syngur vitleysingur." While "Gobbledigook" and its accompanying video were the more surprising parts of the Icelandic band's 2008 release, this track brims with jubilant energy. When it reaches the peak of its crescendo and pauses only for a moment before the horns blare, there exists this feeling of driving toward some great accomplishment. Being on the verge of achieving it. It's a triumph. (Also of note, "Ara Batur," possibly the most gorgeous song on the album).
8. Man Man. "Hurly/Burly." The driving percussion, screaming children, Honus Honus' confessional lyrics and cartoonish quality of this track meld perfectly to create one of 2008's most unrestrained tracks. You have no idea what the song is about, but it's one of those tracks where you just relish in the insanity.
7. Beach House. "D.A.R.L.I.N.G." Back in 2007, the Grizzly Bear endorsement of "Gila" piqued my interest in this February release. Victoria Legrand's vocals cast a haunting sense of Devotion over the whole album, evinced nowhere better than this track.
6. Fleet Foxes. "Ragged Wood." The first two tracks from Fleet Foxes debut LP are undeniably catchy, showcasing the best the Seattle quintet has to offer. But "Ragged Wood" is the first track to explore all of the band's assets in full, coming across as a more complete thought than the others. It's tempo changes, sense of pastoral American imagery and beautiful use of harmony all make it an irrestible piece of one of 2008's finer debuts.
5. Sun Kil Moon. "Lost Verses." Mark Kozelek is an artists that requires a lot of patience and a lot of time. But when you finally embrace nine-minute songs like this one, it makes the reward all the better. "Lost Verses" evinces the genius of Kozelek's craft with lyrical imagery and the songwriter's gentle voice.
4. Bonnie "Prince Billy. "I'll Be Glad." As in love with my own words as I am, Said the Gramophone says it better.
3. WHY? "These Few Presidents." Each time I listen to Yoni Wolf's lyrics, it's like an explosion in my head. And as I dig deeper into Alopecia, I constantly find myself impressed with the exceptionally tight instrumental aspects. But still, every time I arrive at the song's simple conclusion, "even though i haven't seen you in years/yours is a funeral I'd fly to from anywhere," I'm just a little overwhelmed but it and all the other confusion elicited by Wolf's lyrics disappears.
2. Mount Eerie ft. Julie Doiron & Fred Squire. "Flaming Home." This track must have been a dream come true for Phil Elverum. It is filled with a cold emptiness so typical of Elverum, and probably the best thing he has put out since No Flashlight. You can't help but feel obliterated but the song's end.
1. Bon Iver. "re: stacks." First, yes, we're counting the 2008 Jagjaguwar re-release instead of the 2007 self-release.) I've had different favorite songs from this album as the year has progressed (notably, "Skinny Love," "Flume" and especially the Blogotheque version of "For Emma") and they all could have been on this list. Yet "re: stacks" possesses something more. Justin Vernon's debut wreaks of pain and heartbreak, and each track brings him closer to a carthatic moment, which comes in this the final track. Every second, every lyric and event note of this song are prefect, dripping in emotion. If you listen carefully at the end, you can hear him set his guitar down and walk away, a stirring gesture almost profound as the song's final lyrics.
Check back Dec. 2 for the next list. For the first two lists, click here.
Get The Chronicle straight to your inbox
Signup for our weekly newsletter. Cancel at any time.