Elizabeth Williams ready to use Team USA experience to improve Blue Devils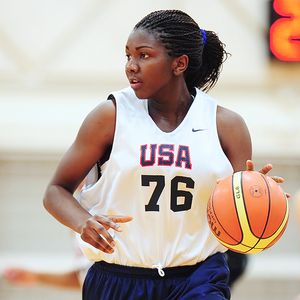 Elizabeth Williams is no stranger to winning in international competition. In many ways, winning the FIBA U19 championship last week with the United States national team was familiar territory.
She was the FIBA U16 World Championship's Most Valuable Player in 2009 en route to a gold medal in Mexico City. She won gold again the following year in the U17 FIBA World Championships in France, leading the Americans with 13.5 points and 7.6 rebounds per game, both team-highs.
When she walked off the court with her third gold medal in as many years last Sunday after the Americans won the U19 World Championship in Puerto Montt, Chile, though, Williams realized there was difference with this year's tournament—the Americans hadn't gone undefeated.
"This one was definitely a lot more competitive," Williams said. "I think you could tell with our loss to Canada. We realized the level of competition was much higher and we needed to play with greater intensity for the entire tournament."
Williams, the No. 2 recruit in the nation according to ESPN.com's HoopGurlz, is the gem of this year's class for Duke head coach Joanne P. McCallie. And, even among older players and tougher competition in this tournament, the 6-foot-3 post player displayed that she belongs among the elite in the collegiate game.
Starting six of the nine games, Williams was fourth on the team with 8.9 points and third with 5.0 rebounds per contest. She was efficient from the field, shooting at a 52.3-percent clip including a 6-for-8 effort in the championship game, and helped guide the Americans with a co-team high of 15 points in their 69-46 championship victory over Spain.
McCallie made the trek down to Chile and caught a few of the United States' games, though not the championship, in order to cheer on her new player. She made it clear her trip was not evaluative in nature, but rather supportive of Williams and the other fellow Americans. McCallie remains close to the USA Basketball program after coaching the U20 and U21 teams in 2006 and 2007, respectively.
"I know what Elizabeth can do--that was a different team, different coaching staff, different circumstances, so I was much more of a supporter." McCallie said. "And I think her role at Duke is going to be different [than it was in the tournament], so I'm going to apply what I know about Elizabeth from watching her for the past four years."
Those last four years, McCallie scouted and recruited Williams, watching her both on the international level and on the high school one where she played for Princess Anne High School in Virginia Beach, Virginia. She will likely be needed to play big minutes from the start to fill the void left by the graduation of starting center Krystal Thomas, which left junior Allison Vernerey as the only center on the roster.
And while Elizabeth is used to playing on the big stage, this experience was unique in that she was playing with and against competition that has experience on the collegiate level. Two of her teammates, Bria Hartley and Stefanie Dolson, are rising stars for the University of Connecticut, the team that delivered Duke's first and last losses of last season. Hartley, a guard, led the Americans in scoring while 6-foot-5 center Stefanie Dolson was third.
Dolson gave Duke particularly difficult matchup troubles in their two games last year, with the rising sophomore steadily improving as the season went on. Playing with other elite talents should be crucial in Williams' development, especially when she will likely guard Dolson in any future game with the Huskies.
"When we were younger, [Stephanie and I] actually played against each other in club but never actually on the same team," Williams said. "It was pretty cool to be able to play with other people that you're going to see in the future and learn from them."
No matter who she was playing with however, it is most important who she received the opportunity to play against, which included some of the best talents across the globe. Although this tournament did not involve preparing with the Duke program, this sort of international competition could be the most effective way to prepare for the talent level she'll face this season with the Blue Devils' notoriously difficult schedules.
"Elizabeth is a true warrior," McCallie said. "She doesn't allow things to get in her way, and I think her USA experience has only magnified that for her."