Blue Devil Reunion in the Windy City?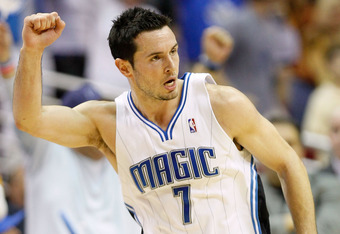 After losing out on the Lebron James sweepstakes, the Chicago Bulls have plenty of money to go after the NBA's remaining high-profile free agents.
Next on their shopping list: Orlando Magic sharpshooter and Duke legend J.J. Redick.
In preparation for the Summer of Lebron, the Bulls made a series of trades to free up $32 million in salary cap room, second only to the cap space cleared by New York Knicks.
The team then tried to lure Lebron to Chicago by signing former Blue Devil Carlos Boozer to a five-year, $80 million deal Thursday.  
But when King James announced that he would be joining Dwayne Wade and Chris Bosh in Miami next season, Chicago's front office found itself with enough cash left over to make more offseason moves.
The Bulls signed Boozer's Utah Jazz teammate Kyle Korver to a three-year deal early Friday night. ESPN the Magazine's Ric Bucher later reported that Chicago had also signed Redick--a restricted free agent--to a three-year, $20 million offer sheet. The Magic, Redick's only team since joining the league in 2006, have seven days to match the offer.
If Redick were to join the Bulls, he would reunite with former Duke teammate Luol Deng. The two played together for a single season, 2003-2004, during which the Blue Devils advanced to the Final Four.  Deng, only a freshman, scored a team-best 16 points as Duke fell 79-78 to eventual National Champion UConn, while sophomore Redick added 15.
Even though they failed to land James, the Bulls now boast a strong mix of young talent and seasoned veterans. The pairing of Boozer with center Joakim Noah gives Chicago one of the top frontcourts in the East. And adding Redick on the wing along with Deng would make for a deadly perimeter combination.
With 2010 All-Star point guard Derrick Rose driving the lane and forcing the defense to collapse, Redick would no doubt get plenty of opportunities to showcase his three-point stroke in Chi-town.