This is the fourth in a series of Duke's All-Decade teams, as named by various Chronicle writers, past and present. At the end of the series, you will be able to vote for your own All-Decade team, and your votes will determine The Sports Blog's final choice. Stay tuned over the next two weeks for more All-Decade choices.
The apparent struggles of some of the most successful and highly drafted Blue Devils at the NBA level (see: Redick, J.J. and Williams, Shelden) have provided consistent fodder for Duke haters over the past decade, but the stats don't always support these naysayers. In fact, at the start of the 2009 season, Duke had 14 players on NBA rosters, the most of any ACC team. With that in mind, The Chronicle presents Duke's All-NBA team:
G: Luol Deng (2003-2004)
Many have speculated (and continue to do so) that Deng's decision to leave Duke after one year led to Coach K's apparent aversion to recruiting possible "one-and-done" players. Still, no one can argue that Deng hasn't been as dazzling an offensive player at the NBA level as he was in his one season in Durham. Deng has averaged double-digit scoring outputs every year of his NBA career, including a career high 18.8 in the 2006-2007 campaign. Most tellingly, though, it was apparently Deng's consistent production and potential (the guard is still only 24 years old) that allowed the Bulls to let another talented guard, Ben Gordon, leave during free agency this past offseason.
G: Shane Battier (1997-2001)
Battier doesn't make this team for his statistics, but rather for his intangibles. Despite averaging more than 13 points per game during his Duke career, Battier has averaged just under 10 points per game during his NBA career and has averaged double-digit scoring totals only thrice. However, Battier was dubbed the "No-Stats All-Star" by the New York Times because his defensive prowess has just as much game-changing ability as a 40-point scoring performance. Battier's defensive assignment is almost invariably his opponent's best perimeter scorer, and in turn he has made a living shutting those players down. Just ask Kobe Bryant what its like to be guarded by this former Blue Devil and it will be clear why he deserves a spot on this team.
F: Grant Hill (1990-1994)
Hill's inclusion on this list is almost bittersweet, seeing as his great NBA career could have been transcendent if not for a plethora of unfortunate injuries. During his six years with the Detroit Pistons in the 1990s, Hill was widely considered one of the best players in the game, averaging more than 19.9 points per game every season, including a 25.8 point average in his final year in Detroit. However, Hill's struggles after signing with the Orlando Magic have been well documented: Ankle problems forced the player who was supposed to resurrect the Magic (alongside young star Tracy McGrady) to miss more games than he played in during his first three seasons in Orlando, including missing the entire 2003-2004 campaign. But since returning to the court and playing 67 games in the 2004-2005 season, Hill has created a new niche for himself on winning NBA teams. No longer the explosive athlete and dominant scorer he once was, Hill has settled into a complimentary role that has benefited not only him (he's averaged more than 12 points per game each of the last six seasons), but also the teams he's played on. Hill is now providing a needed veteran presence on a talented Phoenix Suns team that is currently fourth in the Western Conference.
F: Elton Brand (1997-1999)
Brand's decision to leave Duke after his sophomore year led an exodus of players entering the draft early (William Avery and Corey Maggette also entered the 1999 draft despite having eligibility remaining), but in Brand's case the decision certainly made sense. The forward was selected with the No. 1 overall pick by the Chicago Bulls in the 2002 draft, and despite struggling to find an NBA home (Brand is currently playing for his third team, the Philadelphia 76ers, after playing two years for Chicago and seven for the Los Angeles Clippers) Brand's production has consistently been at an All-Star level. The forward averaged a double-double in six of his first seven seasons and has averaged more than 20 points per game on six different occasions. Brand's first season with the 76ers was marred by injuries (he only played 29 games during the 2008-2009 campaign), and the forward is now trying to prove he deserves the nearly $15 million a year his big free agent deal affords him on a struggling squad.
F: Carlos Boozer (1999-2002)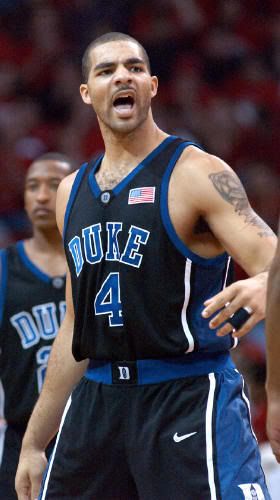 Despite leaving Duke a season early, Boozer was not drafted in the first round of the 2002 draft, falling to the Cleveland Cavaliers in the second round. Still, the former Blue Devil made an immediate impact, averaging double figure points in his first season and a double-double, including 15.5 points per game, in his second. And despite some controversy ("Boozer-gate" anyone?), the forward became a true star upon moving to the Utah Jazz following his second season. There, Boozer has twice averaged more than 20 points per game and has averaged a double-double in each of the last four seasons (including this current campaign, in which Boozer is averaging 19.8 points and 10.7 rebounds a game). An All-Star in both 2007 and 2008, look for this former Blue Devil bruiser to earn another lucrative contract this off-season.
6th Man: Chris Duhon (2000-2004)
Duhon has never been one to impress on the stat sheet at the NBA level, much like he was at Duke, but his ability to play solid defense and lead an offense has provided this point guard a niche in the NBA. Despite being drafted in the second round by Chicago in 2004, Duhon played in every game his rookie season, averaging just under six points and five assists a game. Duhon continued to be a spark plug for the Bulls for the next four seasons, and has now found a home as the New York Knicks starting point guard.