This semester, Duke's oldest theater group is diversifying their repertoire in more ways than one. Senior Sophie Caplin is directing Duke Players' first musical, the award-winning "Once on this Island," performed by an all-black cast.
Based on a book by Trinidadian author Rosa Guy, the one-act musical is a "story within a story." In it, village storytellers comfort a girl during a tumultuous storm with the tale of Ti Moune, a peasant who falls in love with a member of the French-descendent grand homme, a group of island aristocrats. Guy's novel and the resulting musical draw inspiration both from Hans Christian Andersen's "The Little Mermaid" and Shakespeare's "Romeo and Juliet," but the cast assured that the longstanding friction between the peasants and the grand homme has roots deeper than classism.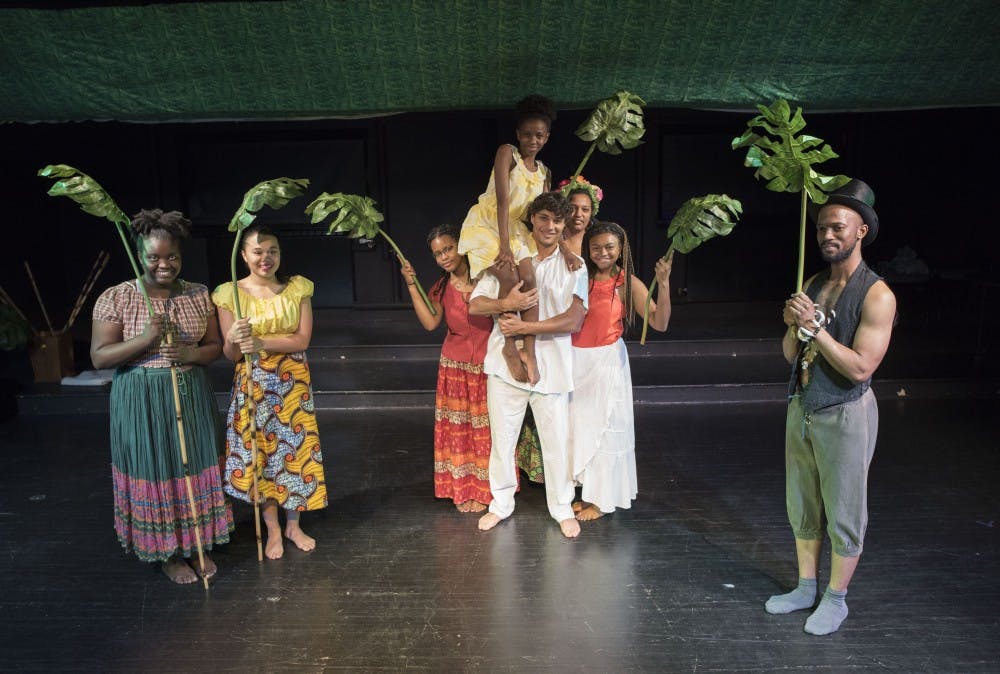 "It's not only about economic divisions or racial divisions," sophomore Casey Pettiford, who plays Ti Moune, said. "It's also cultural — what the peasants believe versus what the grand homme believe — [and] ideological differences — how they view life, how they view love."
According to Caplin, these themes would not have been as prevalent or effective had Duke Players opted for a more traditional, whitewashed cast.
"The show is a lot more powerful if you have an all-black cast because, first of all, it's written for an all-black cast. And the prejudice between the two classes is a lot stronger," Caplin said. "The all-black cast shows the tension between people within a race and the tension of the French ancestry [of the island]."
Though "Once on this Island" can be adapted for all-white casts or mixed-race casts, Caplin was committed to casting the performance as it was intended. Despite her commitment, the Theater Studies department, which funds and advises Duke Players performances, was wary.
"The way it's really intended to be [performed] is with an all-black cast," Caplin said. "I thought, if we're going to do this, we're going to do it correctly. When we first brought [the show] up to the department, they were kind of like, 'Oh, you won't be able to find enough people.'"
Fortunately for Caplin, Duke students proved the department wrong. Hordes of talented performers showed up to Duke Players' open auditions, enough that Caplin described them as coming "out of the woodwork."
"Choosing shows that require more diverse casting allows people to showcase the really diverse talent we have at this university," junior Lulla Kiwinda, who plays Erzulie in the production, said of the importance of maintaining the traditional all-black casting. "I think the most important thing is to just have the show because once the show was chosen, people came [to audition]. People can't [audition for] a show that doesn't exist."
"Once on this Island" opens just in time for Parents' Weekend, and director and cast alike said it would be a show the whole family can enjoy, one with energetic music and dance and unique set design. According to both Caplin and Music Director William Harris, Trinity '17, "Once on this Island" has a "groovy," sonically eclectic soundtrack that merges Caribbean and West African rhythms with samba beats and syncopation.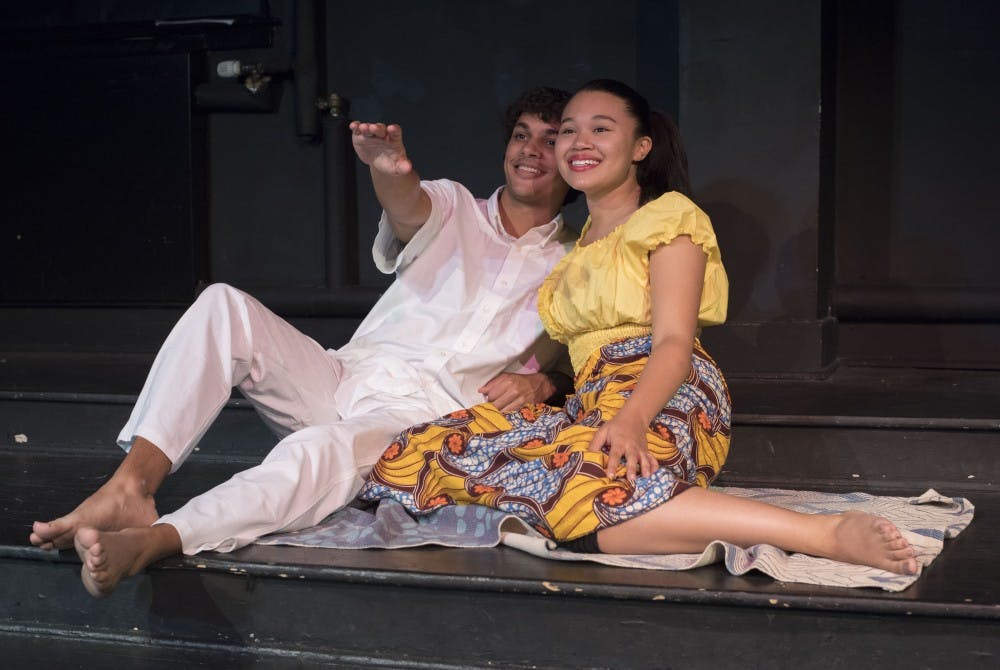 "If you're arguing with your parents, if you're lovesick, if you feel powerful, if you're feeling sinister, if you're in love — no matter what you're going through — you can pick a song of out of this show and just have at it," first-year Zhuri Bryant, who plays the role of Andrea in the performance, said, echoing Harris's enthusiasm.
The "bare boards and passion" set design emphasizes the communal nature of storytelling and brings it to the forefront of the performance. Due in part to the intimate nature of Brody Theater where the performance is housed, Caplin chose to construct important set pieces with the bodies of the actors themselves rather than from stationary material.
"A lot of it is people working together to make the story," Caplin said. "Ti Moune's house, for example, is made out of people."
Bryant promised that "Once on this Island" is a play that everyone will glean something from, even if that "something" is different.
"You can sit and watch, but you can't walk away without feeling like you had a mini conversation with yourself and the people who were on the stage," Bryant said.
If you're looking to impress your parents with an authentic, cultural campus experience, consider taking them to "Once on this Island." With catchy, eclectic music and captivating dance sequences choreographed by Professor Ava LaVonne Vinesett (and a surprise ending I'm not at liberty to divulge), Duke Players' premier musical performance is sure to be memorable. Even if you'll be spending Parents' Weekend alone with your projects and papers, "Once on this Island" is a performance you don't want to miss.
"Once on This Island" opens Oct. 21 and runs through Oct. 29 in East Campus's Brody Theater. Admission to performances is free.